Abide by all safety and road signage as per examples that apply
Make positive contact (verbal/visual) before approaching mobile plant operations and never work / enter under a suspended load
Follow any reasonable instruction given by Concrush and report unsafe conditions and all injuries and incidents as soon as possible
Stay clear of any loads being tipped (at least 20m)
Ensure children and pets remain inside vehicles
Park only in designated areas
Remove vehicle coverings in the 'Tarp Removal Area' and replace coverings or tarps before leaving site – inspect vehicle prior to leaving to ensure it is in safe condition
Drivers must ensure that vehicles are on level ground before tipping
Drivers must stay in vehicle when tipping (e.g., articulated trucks)
Before leaving tipping area all doors of vehicles must be closed and hoists lowered
Where a load is deemed to be unsafe, Concrush will not allow it to leave site or be tipped until it is made safe – fees may apply
Make our Safety Culture Positive - Do not walk past an unsafe act – Say something. Doing nothing says you condone the behaviour. Make a difference today.
Tune into UHF Channel 7 if you have a radio
Electrical, lifting, and work at height equipment must have current inspection / tag, tagged out of service or removed from site
Electrical equipment and generators must have earth leakage protection / RCDs
No chemicals are to be brought to site without prior approval and current Safety Data Sheet (SDS)
Never operate machinery unless you are competent / have a licence or verification of competency (VOC)
Ensure mobile plant inspections are completed prior to commencing and defects are report to your supervisor
All Visitors must report to the weighbridge office on arrival and must sign in and sign out in the visitors register upon entering and leaving the workplace (except delivery drivers / persons in vehicles registered via weighbridge)
Where a serious incident occurs, non-disturbance protocols must be applied – e.g., cordon off area, do not disturb the area except to rescue personnel / prevent further injury
The names, photos and contact numbers of first aiders displayed throughout site.  
Do NOT enter site if you are under the influence of alcohol or other drugs. Testing may be conducted as required.
Personal Protective Equipment must be worn as displayed or as per risk assessment. Some samples are shown below:
First aid kits are displayed by the symbol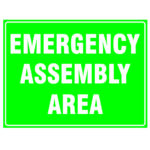 Emergency Assembly Area is displayed by the sign